Time to create robust scientific product claims through a data driven process. Whether it's the innovation of plant-based products, analysis of animal gut health for better food, or the creation of functional foods and ingredients, the e[datascientist] is the answer.
Organisations already on board the Eagle Genomics' train



The world is facing new challenges like never before


Make scientific plant-based product claims
Delve into animal biology and create nutrition rich food and feed through in-depth analysis of intestinal microbiota present in animal hosts
Develop healthy packaged products with the right balance of micronutrients and probiotics
Understand the role of the gut microbiome present in humans in order to address immunity issues, diabetes, obesity and more
Analyse the relationship between health and mental wellness in humans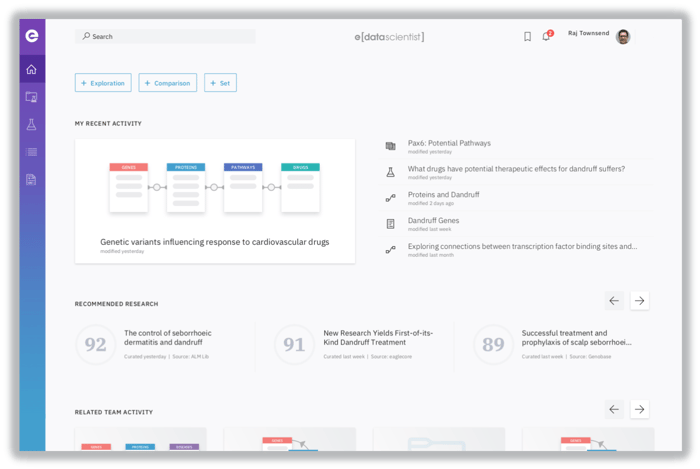 | | |
| --- | --- |
| | "Not only our science has to evolve — also our way of doing microbiome research and understanding multi-omics. Without Eagle Genomics' data pipelines, we would learn something from each scientific study, but it wouldn't go anywhere beyond that." Samantha Tucker-Samaras, Global Vice President Science & Technology, Beauty and Personal Care R&D at Unilever. |
The e[exploration] collection
The e[datascientist]'s exploration collection applies a data driven approach that encompases network science and graph theory to:
Provide a curated and catalogued data repository generated from multiple databases such as KEGG, Human Metabolite Database, FooDB etc.
Enable scientists to infer key relationships, and the strength of those relationships, between different entities via an intuitive scoring system.
Equip teams to normalise, standardise and correct data for further statistical analysis and graph exploration.
Provide scientists with the ability to improve hypothesis formulation through an interactive and exploratory data analysis approach, and apply the formulated hypotheses on a broad range of datasets.
Interested in learning more? Have a look at Eagle Genomics' e[datascientist].